Standardized Cabinet Styles:
(Available for Kitchen & Bath)
Sorted in Order of Price (Low to High)
View our online price list by
clicking here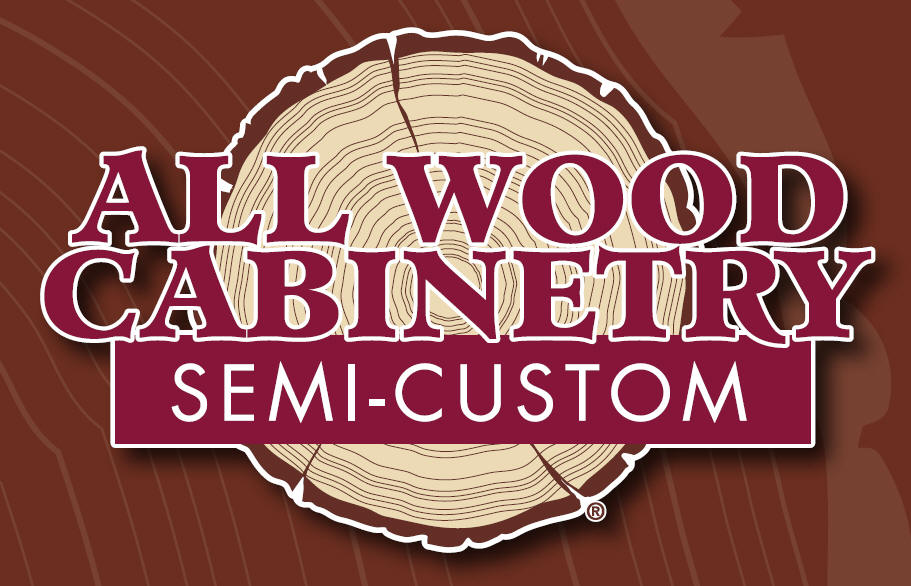 We are also proud to offer "semi-custom" cabinets form All Wood Cabinetry.
Please click on the logo above to view the available door styles and more.
Built to Order Door Styles:
(See Color Chart and Descriptions for all options)
Decorative Hardware:
Digital Catalogs:
Allison Catalog (3.6mb)
Amerock Catalog (11mb)
Berenson Catalog (39mb)
Understanding the Natural Beauty and Distinctive Appearance of Wood:
The natural beauty of real wood cabinetry comes from the inherent qualities & characteristics
of the wood itself. Trees of the same species, even growing side by side, are affected differently
by the climate & elements required for growth. Minerals (nutrients) are absorbed in different ways &
at different rates, even within the same tree. These factors combine to create the distinctive beauty
of characteristics like:

1. GRAIN PATTERN VARIATION:
Very wide open grain. contrasting with very tight/closed grain.

2. GRAIN COLOR VARIATION:
From even & consistent grain color to varied & quite dramatic.

3. UNIQUE MARKINGS:
Such as dark "mineral" streaks & light colored sap wood.

These variations can be present from cabinet to cabinet and within the same door/drawer front and are
not considered defects. Clear or natural wood finishes, used on cabinetry, permit the natural beauty
of grain. and color tone variations to show through. Opaque finishes provide greater consistency by
hiding the natural wood variations. Remember, each cabinet is only a small piece of nature's work of
art and individual cabinets may not show these natural and yet distinctive characteristics.
Some of Our Custom Products:
There are MANY more door styles and colors. Call or come by our show room today for more information!
CABINETS: Care and Cleaning:
Keep Your Cabinets Clean and Dry!!!

Our cabinets have been designed and built to last with a minimum amount of care by you. However, as with your other fine furniture, there are certain "do's" and "don'ts" to adhere to that will help your cabinets retain their beautiful, lustrous finish for years to come.




DO:

- Dry off any dampness or any liquids immediately with a clean dry towel.
- Clean off any heavy or sticky residues with a warm, mild solution of furniture oil soap or equivalent.
- Touch up scratches with a scratch cover or a matching colored paste wax.
- Clean white laminate or foil doors and drawers with a mild liquid soap and warm water. Dry with soft clean cloth immediately.



DO NOT:

- Use abrasives, strong detergents, chemical agents, or rags and sponges used for other chores to clean your cabinets.
- Use a wax because over time it will cause a film that picks up dirt and smoke.
- Use a silicone-based polish.
- Drape wet towels over the doors or end panels.